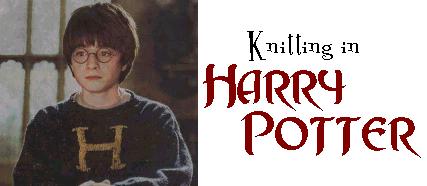 Updated: Dec 11, 2001
I changed to this URL in hopes of making it easier for people to see my site. I've therefore lost the Guestbook entries. So please sign the guestbook! =)
Anyone who's a Harry Potter fanatic knows there is a lot of knitting in the books. I made a scarf modeled after the one in the movie, and a hat to match it; several members of the Knitlist and KnitU are also working on similar projects.
I've created a forum for discussion about knitting in Harry Potter, you can access it here!
Also there is a discussion list for knitting in Harry Potter, check it out here!
This page is meant to help those of us who are designing sweaters and scarves to match the movie. All of these pictures came from www.hpgalleries.com. These pictures are ALL copyright Warner Brothers. (some are also copyrighted by their respective photographers) I've cropped some of them to show only the relevant part of the screen shot.
I've started a compilation of online Harry Potter-inspired patterns. Check it out here!